WAC offers individual consultations, course visits, and group workshops for all faculty, departments, and programs across campus as well as with other schools and North Carolina community colleges.
Class Visits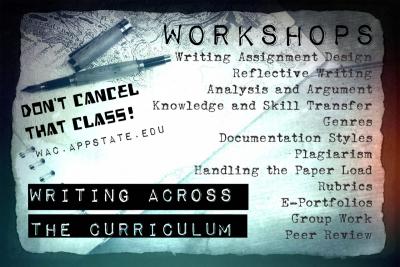 If you have a conference, family obligation, or research appointment that will require you to miss a class that you are scheduled to teach, instead of cancelling class, you are invited to contact the WAC program to schedule a workshop or class. Our workshops include, but are not limited to: Writing Across Curriculums, Writing in the Disciplines, Writing Strategies, Writing for Change, Writing to Learn, A-Portfolio Writing, Vertical Writing Model Overview, Technical Error, Plagarism, Documentation Style (MLA, APA, and Chicago), etc. Where possible, the presentation will be tailored to have students consider WAC within the academic discipline at hand.
If you would like a WAC consultant to come to your class, please complete the request form below.
Faculty Consultations
The Writing Across the Curriculum (WAC) Program's main objective is to enhance academic writing at Appalachian State by engaging with teachers in all disciplines. WAC writing consultants regularly engage in one-on-one conversations with faculty across the University about to help make writing instruction more meaningful and more efficient for both teachers and students.
Below are some of the topics we offer. This is not a comprehensive list but provides examples of what could be discussed in one-on-one conversations:
How to reduce faculty workload by assessing writing more efficiently and quickly

How to deal with student error

How to scaffold assignments

How to create relevant, meaningful assignments

How to help students choose a focus for their writing

How to conduct peer review so that students find it valuable and worthwhile

How to teach students to revise

How to teach documentation styles and help students avoid plagiarism

How and why reflection can be used effectively in a class

How to use portfolios/eportfolios

How to incorporate low-stakes writing assignments

How to get students to read and apply your feedback

How to effectively use collaborative writing

How to effectively employ knowledge of audience, voice, and tone

How to teach analysis

How to construct an argumentative essay
If you you would like to discuss these or any other topics with WAC consultants, contact WAC Director, Dr. Georgia Rhoades, to set up a one-on-one consultation.
Faculty Workshops
WAC offers a variety of workshops about teaching writing. Many of these are open to the University, but we can also tailor workshops to the needs of specific faculty groups.