Women's Writing Pilgrimage
This project, begun in 2010, led by Georgia Rhoades, Mary Anne Maier, Christine Dave, Jill Smith, Anne Wright, and Julie Kraus, is in its eighth year of focused monthly meetings for community women writers. We have explored themes of pilgrimage, healing, and challenge, producing writing for performance and community. Each year, WWP presents its work in a performance of writing, song, and movement, directed by Mary Anne Maier. For information about joining the group, email Julie Karaus at karausje@appstate.edu.
For more information about WWP and this year's workshop calendar, please see the calendar.
Women's Writing Pilgrimage 2019-2020
Women's Writing Pilgrimage 2018-2019
Fri, Sept. 28: Sharing at the New River Barn
Mon, Oct. 29: Katy Abrams, "The Color of Forgiveness: Purple is a Place to Start"
Mon, Nov. 12: Georgia Rhoades, "The Second Psychic Street Market"
Tue, Dec. 11: Julie Karaus, "Harnessing Hysteria: Channeling Rage into a Creative Force"
Tue, Jan. 15: Sarah Zurhellen, "Erasure Poetry"
Tue, Feb. 12: Jill and Mary Anne
Wed, March 13: Anne Wright
Wed, April 10: Christine Sita Dave, "I am whole. I am complete."
WAC's Writing Cafe
The Writing Cafe Retreat is designed to allow faculty and community members a place and dedicated time to write on projects. Retreats include workshops, writing time, and manuscript sharing. For more information about WAC's Writing Cafe, contact Georgia Rhoades.
EDGE (EDucation for Girls Empowerment) Book Event with Christine Sita Dave`
On September 10, WAC hosted a book signing for WWP Diva and Founder of EDGE (Education for Girls' Empowerment), Christine Sita Dave`. Christine's book, Be on the Cutting Edge: EDucation for Girls Empowerment, features interviews with and original artwork by the girls from villages near Nuapali, Odisha, India who attend Navaprabhat Kanya Gurukul school six days a week, from Monday through Saturday, 9:45 am - 4:00 pm. EDGE's mission is "to provide a safe and sustainable environment where each girl from Nuapali, Odisha school will be educated, equipped and empowered." Their current goal is to build a residential school for all 41 girls "so that they can further their education, enter the work force, and help end poverty cycles." The book signing event raised $645 from the sale of books to support EDGE's work.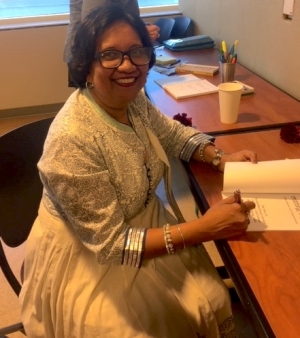 Tags: