Is time a wave or a particle? Is the future closer than you think? Is the end of the world near? Can a hero be a terrorist? Did Schrödinger kill any cats? Can a baseball game go on too long?
For answers to these and other questions, come to the world premiere of Black Sheep Theatre's newest production, The World Serious, November 13 and 14 at 8pm at the New River Barn, 139 River Road in Todd, North Carolina. Admission is $5.00.
The World Serious, written and directed by Dennis Bohr, is set in the 2455th inning of Game Seven of the World Series between the Texas-by-God White Boys and the Floating Island of San Francisco Refugees in a futuristic world which was once the United States of America before fracking, weather catastrophes, and World Wars III, IV, and V reshaped the globe. The play is a satirical examination of contemporary America and deals with terrorism, racism, sexism, refugees, politics, time travel, and, of course, baseball.
Black Sheep Theatre was established in 1995 by Bohr, Georgia Rhoades and Mary Anne Maier in Louisville, Kentucky, to produce original political theatre. Among its over 20 productions are Old, Out-of-step, Anti-war Peacenik Hippies (2006), Witchwork (2010), Macbeth: The Play That Dare Not Speak Its Name (2007), and The Disposable Man (2015), all of which have been performed in Boone and overseas in Ireland, England, and Northern Ireland.
The cast of The World Serious includes
Anné Wright as broadcaster Holly Jolly
Sarah Zurhellen as Molly Jolly
Will Johnson as Wally Jolly
Sherry Alusow Hart as Polly Jolly
Sarah Carpenter as Peacock, shortstop for the Fugees
Phillip Lavey as OOO, owner and centerfielder of the Fugees
Georgia Rhoades as historian Dr. Mammiyoni and Supreme Bob
McClain as The Blade, Owner of Baseball, and Charlie Potatoes, coach of the Fugees
Bohr as Dr. Graham Cracker, owner of the Texas-by-God White Boys, and the Orange Man
Scott Williford as pitcher Hardin Long
Katy Abrams as Mamma Lou Amadoo, first baseperson for the Fugees
Julie Karaus as catcher Mean Kathleen
For more information and directions to the New River Barn, email bohrdj@appstate.edu or call (828) 264-5722.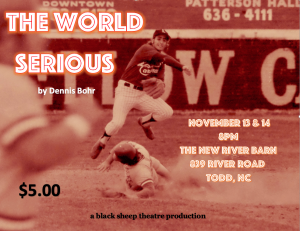 Tags: